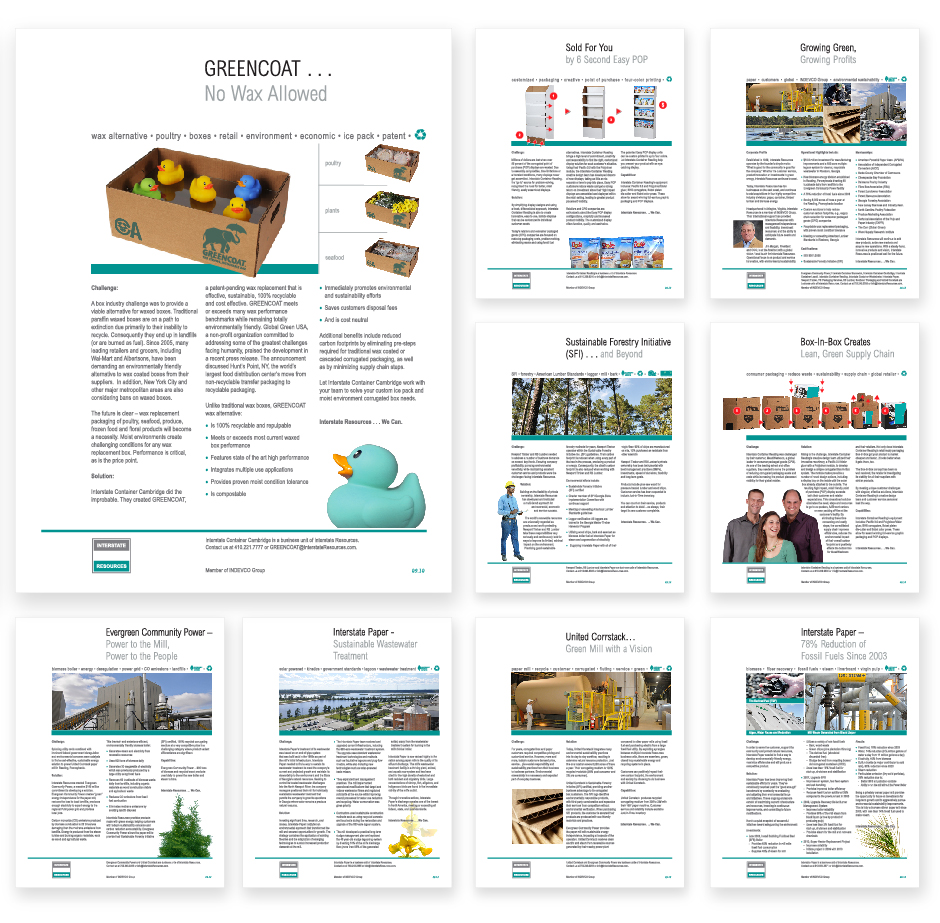 An Environment for Success
Background
In recent years, many companies have been under growing pressure to show increased environmental sustainability throughout all areas of their supply chain. Interstate Resources had a diverse range of environmental success stories but realized they were doing a poor job of getting their message out to their customers and potential customers. At the time, the twelve separate business units scattered throughout the eastern U.S. had individual, unique, yet often unrecognized successful environment initiatives.
Telling the Story
CrossRoads worked with the individual businesses, senior management in Arlington, VA and their communication and B2B online marketing team located near Beirut, Lebanon.
On-site visits provided:
Management and supporting personnel interviews
Strategic discussions
Research review
Scouting opportunities for photography (product and facilities)
Along with insight from our competitive environmental sustainability review, CrossRoads was able to create a clear, cohesive message to promote Interstate Resources' diverse sustainability successes.
With sustainability initiatives ongoing from Pennsylvania to Georgia, Interstate Resources wanted to document its range of commitment to the environment: fossil fuel reduction in its paper mill, use of biomass boilers to power its recycled medium plant, lightweight designs for corrugated packaging and point-of-purchase (POP) designs, development of an innovative wax alternative coating known as Greencoat® and adherence to sustainable forestry methods.

CrossRoads visited member plants and interviewed leadership to develop compelling content and a stunning image bank. The result: a series of ten sustainability stories that have become PDF downloads on the corporate web site and Intranets, direct email content and articles in the group's e-newsletter. Not only did CrossRoads do a great job, it was a true pleasure working with such professionals!

Dr. Ellen Feghali, Vice President of Communications & B2B Marketing, INDEVCO Group
If you would like assistance defining your environmental sustainability efforts or other marketing campaigns, let's talk.
SUSTAINABILITY:
Highlights include:
650-acre multiple-lagoon system for cleaner, recyclable wastewater near Savannah, GA
$140 million biomass energy facility in Reading, PA (diverting 60 truckloads daily from landfills)
Innovative 100% recyclable Greencoat wax replacement, corrugated packaging in Cambridge, MD
180 thousand tons of recycled corrugated medium per year
CLIENT NOTES: Interstate Resources, based in Arlington, VA, generates annual sales more than $655 million. Interstate Resources currently has 19 companies in 14 manufacturing locations in nine states. They produce high quality timber, container board, corrugated cartons, packaging and energy. Interstate Resources is a member of London based DS Smith Plc with more than $6.7 billion in sales.