PrimusLabs' Local Farmer Program
Buy Local with Confidence
Background and Challenge
For the last several years, consumer interest in locally grown produce has been booming. However, along with that support, there is concern and a need for proper standards. Growing markets need to be addressed, but how do you introduce food safety standards, at a fair price, to the farmers' markets and "pick-your-own" orchards?
To further complicate the situation, food safety programs and websites can be overwhelming and intimidating. Complicated materials are time-consuming, frustrating and expensive for local farmers.
Brand Creation
Developed by PrimusLabs and powered by Azzule Systems, both companies are collaborating to address this need by launching the Local Farmer Program. Working with farmers, procurers, verifiers and trainers, the program is providing a personalized food safety and education program to help local farmers participate at affordable prices.
Collaborating with PrimusLabs and Azzule Systems, CrossRoads developed a clear, precise, approachable Local Farmer brand. With subtle references to PrimusLabs' proprietary "cautionary, alert, safety" yellow color and Azzule Systems' "ocean" blue color, the brand shares synergies with both logos. Further PrimusLabs' influence is reflected in the circle graphic for the "o" in "Local". The graphics include a checkmark, representative of the easy, online check-off system.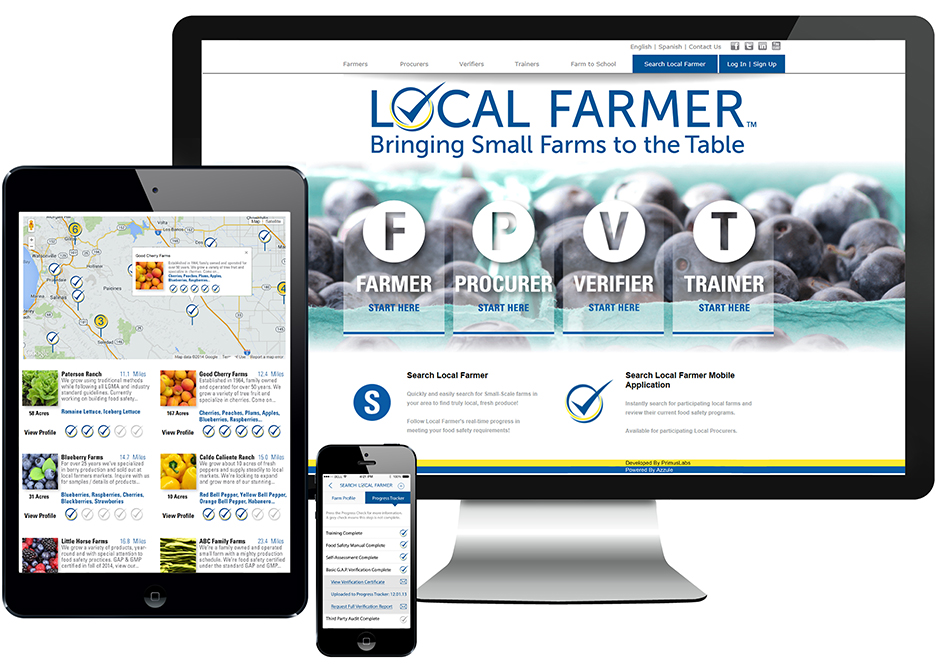 The Local Farmer website has a clean aesthetic with ample white space and easy-to-follow instructions on-site navigation. Usage ease is paramount to the responsive website, across all devices and materials. With practical instructions, the food safety programs for the Local Farmer will be able to provide a third party audit that is effective and affordable.
This user-friendly Local Farmer brand is coming to a roadside stand near you!

CLIENT NOTES: The Local Farmer pilot food safety program caught the attention of such notables as Michelle Obama and Senator Dick Durbin. Initial Local Farmer pilot programs worked with Iowa State University Extension, Davis University Extension, Yolo County Ag Commissions office, Fresno County and more. A few Local Farmer Program procurers supporting small and local farmers include FreshPoint, Farmers Web, So Cal Farm Network, Fresh Nation and Localecopia Marketplace.