Background and Challenge

High Food Services wanted to expand into a higher image branded line of "on the go" meals to be distributed through their existing eleven café locations. The product line included such items as fresh salads, pastas, shepherd's pie and pot pie. The scope of this project included name development, brand logo development, labels, packaging and Point of Purchase (POP).
Process
CrossRoads analyzed and developed targeted branding strategies for both the "Fresh n' Tasty" and "Highpointe" programs.
Major competitors included Aramark, Canteen/Compass and Wickey's.
The analysis included management team interviews. Research included reviews on FoodServiceSearch.com, Restaurant Trends, Today's Restaurant News, Nation's Restaurant News and additional category sources.
Field audits included select locations, such as:
R.R. Donnelley East, West
Pfizer
Kelloggs
Lancaster Courthouse
In addition, non-client audits included locations, such as:
Lancaster Health Center
Reading Hospital
Penn State Berks
Wegmans
Starbucks
The identity and promotional programs for the food service industry, including café, catering, on the go meals and related categories, were examined.
Packaging
In conclusion, based on CrossRoads' packaging history, insight from the interviews, location audits and research review, the unique brand Sadie's To Go was created. This value-added differentiated name and packaging separated itself from the "Fresh n' Tasty" and "Tasty Bytes" value perceptions. Sadie's To Go was developed as a product line carried by High Food Services, with built-in line extendability.
Select Sadie's to Go Label Samples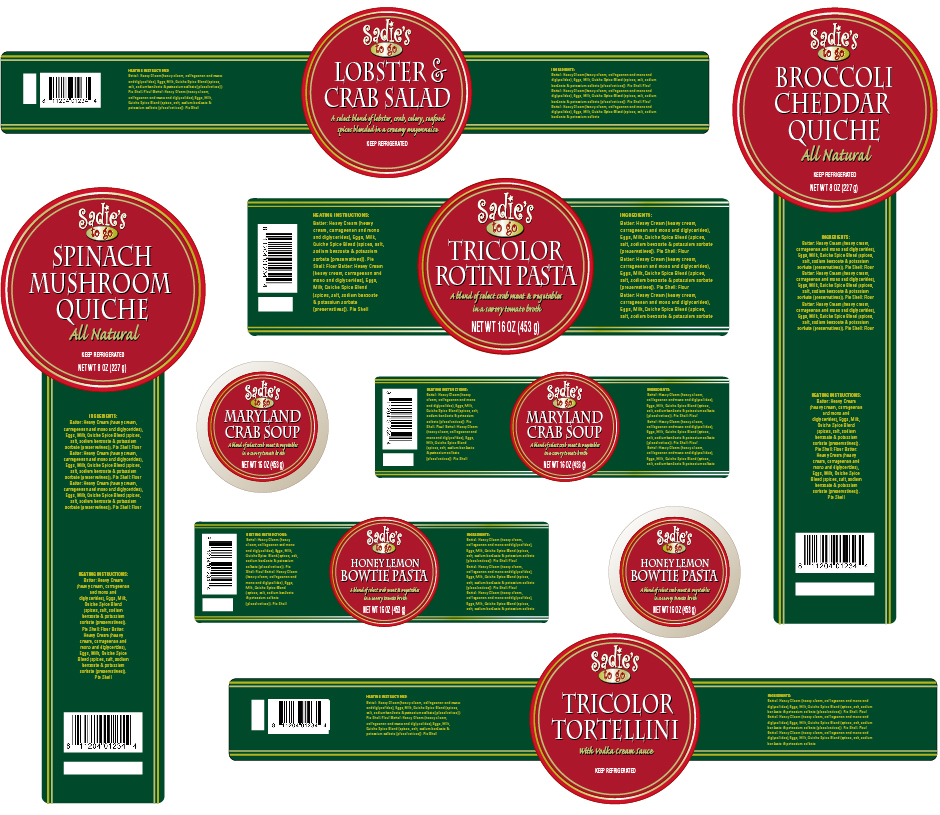 CLIENT NOTES: High Food Services, Lancaster, PA was acquired by Compass Group, owner of Canteen Vending Services, Inc. At the time of the acquisition, High Food Services had approximately $16 million in food service, vending, catering and coffee service sales.