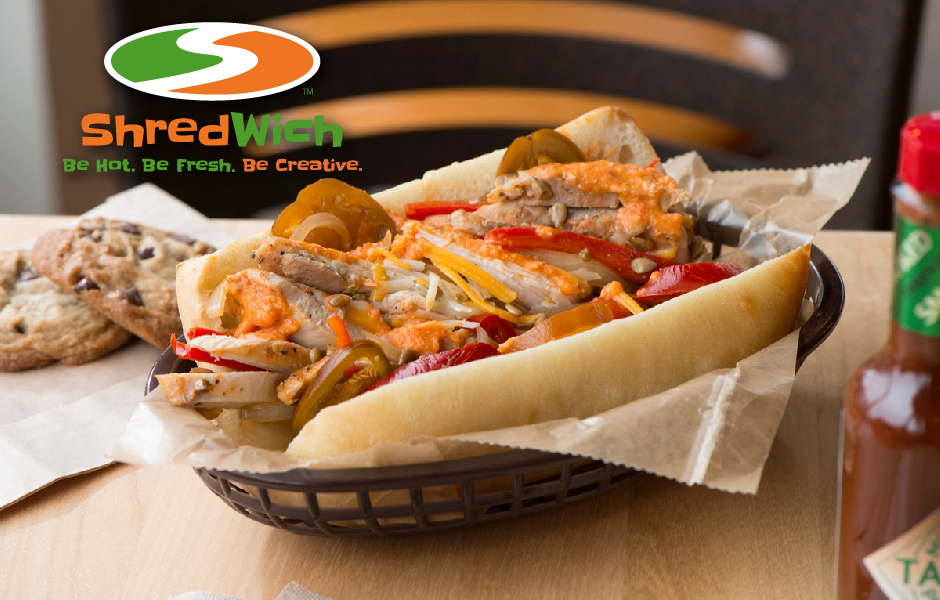 Be Hot. Be Fresh. Be Creative.
Background and Challenge
The Shredwich team's restaurant concept was a delicious mouthful… a contemporary, socially responsible, sustainable, fast-casual restaurant… serving hot, hand-shredded, all natural meats and poultry oven-roasted in-house… "created to order" with fresh organic toppings… served in baked ciabatta sandwiches, rice bowls or salad bowls and gluten free flatbreads.
Hmmm, okay. Three words to describe Shredwich: 1. hot (no microwaves). 2. fresh (no freezers) and 3. creative (create your own, you're in control).
Strategic Brand Analysis
While the Shredwich management team focused on the menus, operations, locations and architectural concepts, CrossRoads Studios focused energy on a competitors' brand assessment. To gain industry trend perspectives, CrossRoads Studios reviewed competitive brands including: Chipotle, ModMarket, Smashburger, Starbucks, Honeygrow and Chopt.
Three brand elements became clearly apparent:
1. The customer is #1. Shredwich must explain its concept and menu quickly, clearly and simply.
2. Many competitors have transitioned, or are in the process of transitioning, their brands into strong, stand-alone icons. A few examples: the Starbucks circle/mermaid, Chili's pepper and the McDonald's "M".
3. A strong, descriptive tagline, or essence statement, will help separate and define Shredwich.
Creative Development
With approval of the strategic brand recommendations, CrossRoads Studios worked with the Shredwich management team and architects to create a brand solution built on three core elements:
A strong overall logo
A strong icon which can eventually stand alone
A simple, descriptive essence statement
Our Bold, Spicy, Informative Essence Statement

Part of CrossRoads Studios' mission was to develop easy-to-follow menu boards to guide the customer through the line, for the "create your own" process.
30″ x 40″ Easy-to-Follow Menu Boards – Quick, Clear and Simple


Create Your Own
A large aspect of the Shredwich concept was personalization. However, it was found that some new customers (primarily male) were stressed with the creative sandwich making process of building their own Shredwich. To assist, CrossRoads Studios recommended fun, wallet-size "newbie" suggestion cards to be provided in the waiting line. The cards aided customers in finding just their right combo. The look and feel of the cards were developed as part of the overall menu board system.
Fun 2″ x 3.5″ Newbie Menu Suggestion Cards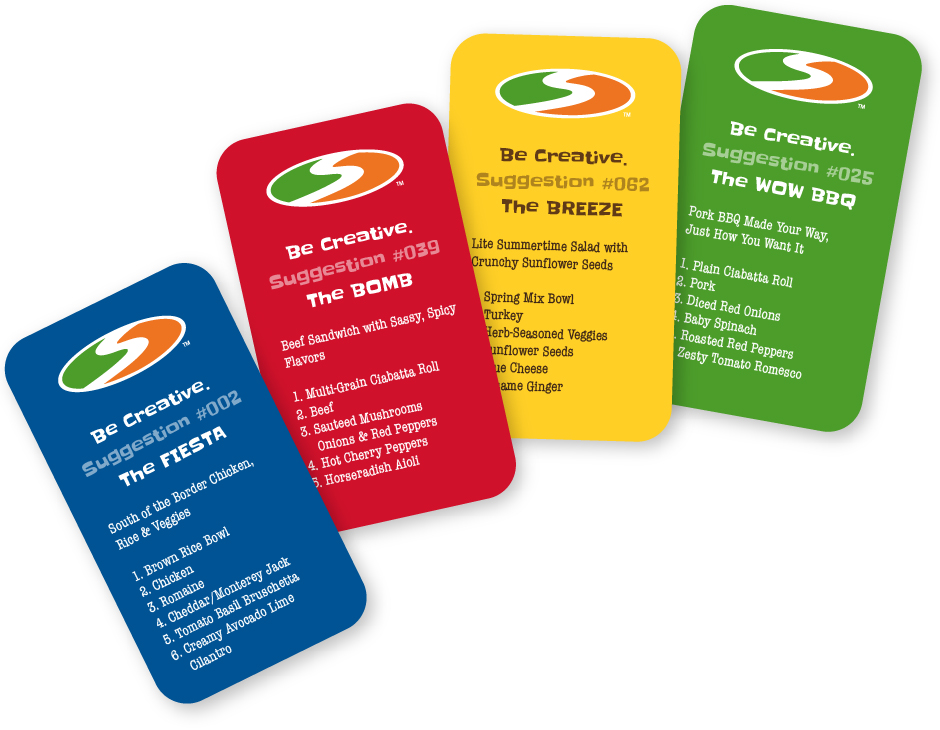 Shredwich Team Uniforms

…CrossRoads Studios was really able to help us make sure we had a strong identity that would stand-up against any national chain. They took something I thought was already good and made it great.

Steve Hettinger, Team Leader, Shredwich
CLIENT NOTES: Shredwich opened its first location in a suburb of Philadelphia, PA. Initial sales were very positive. On-the-go area residents, students, families and businesses discovered a tasty, new, fast-casual alternative.
Brand Signage for the Flagship Sore