Shoppers Find Great Brands
Background and Challenge
Even with more than 60 stores throughout the U.S., VF Outlet realized they needed to address a core retail issue. The research indicated that consumers could not easily identify VF Outlet's impressive portfolio of brands, which included such powerhouse brands as Wrangler, Lee, JanSport, Nautica and Reef.
As a result, the casual shopper did not understand or identify with their retail store experience.
Solution and Implementation
To help shoppers, CrossRoads eliminated the generic descriptor "Factory Outlet" and replaced it with a strong, yet flexible, brands portfolio system. This system was applied to:
Exterior and interior retail signage
Billboards
Promotional materials (such as gift cards, coupons and shopping bags)
To tie-in with the previously re-branded VF Corporate identity program, CrossRoads updated the VF Outlet logo to a striking red retail variation of the blue corporate logo.
VF Outlet – New Brand Architecture   |   VF Outlet – Original Logo

The new identity was encapsulated in a unique 24" x 30" poster and distributed to all its retail store locations. The poster included: color palette, typography, stationery, signage, billboards, ad structure, gift cards and more.
VF Outlet Stores Retail Identity Poster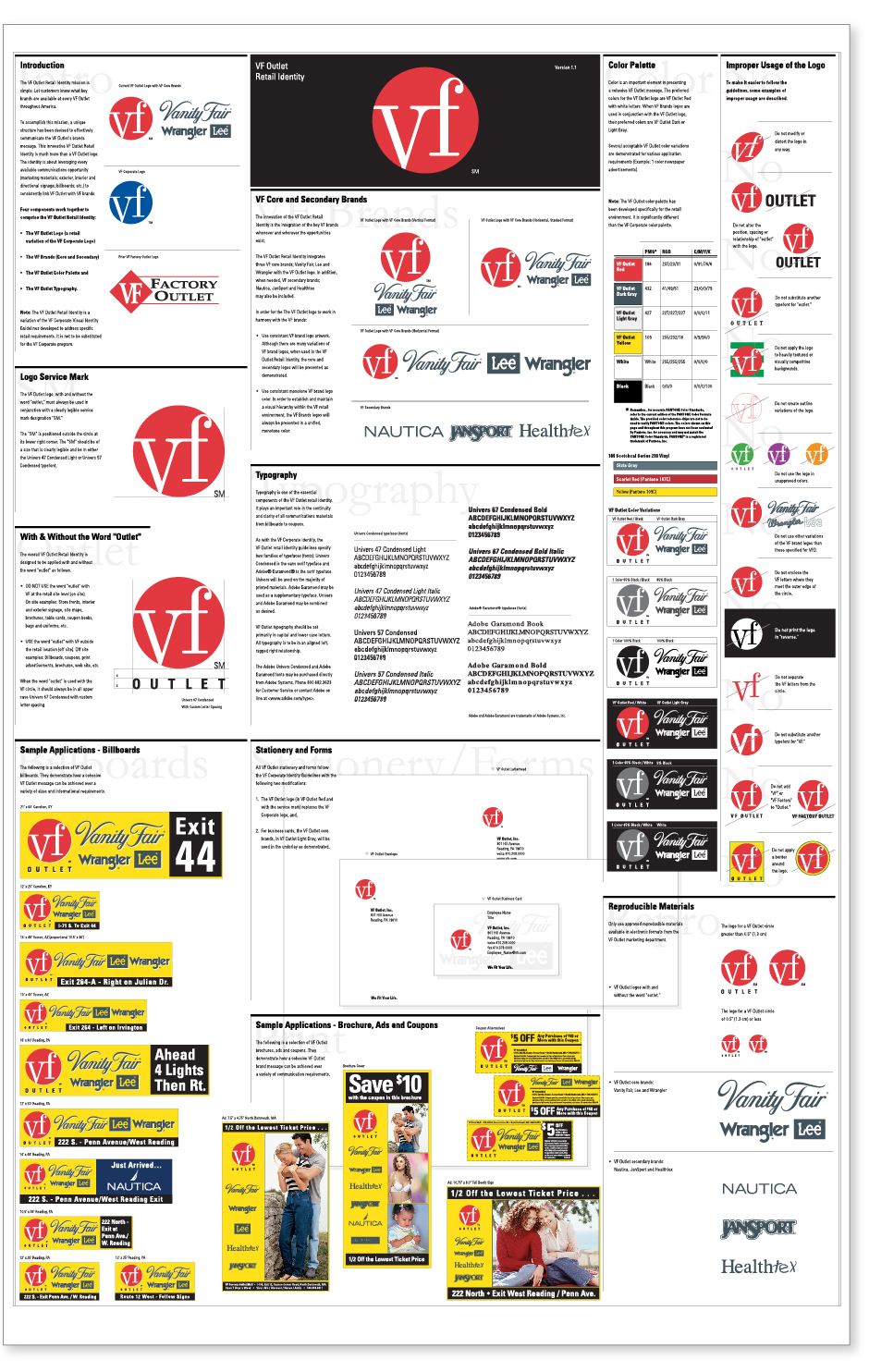 We found we had a creative team in our backyard, who were great to work with as we explored our brand and they ultimately came up with a great new logo and brand package for us.

Steve Fritz, Former President, VF Outlet
CLIENT NOTES: VF Outlet is headquartered in Wyomissing, PA. It was the original factory retail store for jeans maker VF Corporation. The site for the store began as a room with only curtains separating customers from the workers who turned out excessive amounts of VF products. Today, the company operates 79 retail stores throughout the U.S. VF Outlet stores sell jeans, sportswear, backpacks, swimwear and children's clothing.